What you need to know about Dental surgery procedures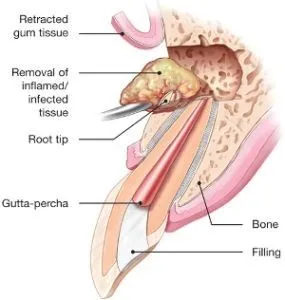 It's possible that a nonsurgical root canal procedure won't be enough to save your tooth and that your endodontist will recommend surgery. Endodontic surgery can be used to locate small fractures or hidden canals previously undetected on X-rays during the initial treatment. Surgery may also be needed to remove calcium deposits in root canals, or to treat damaged root surfaces or the surrounding bone of the tooth.
There's no need to worry about surgery if your endodontist prescribes this additional measure. Advanced technologies like digital imaging and operating microscopes allow these procedures to be performed quickly, comfortably and successfully.
There are many surgical procedures that can be performed to save a tooth. The most common is called an apicoectomy, or root-end resection, which may be needed when inflammation or infection persists in the bony area around the end of your tooth after a root canal procedure.
Your endodontist performs this micro surgical procedure first making you comfortable by applying local anesthesia before opening the gum tissue near the tooth to see the underlying bone and to remove any inflamed or infected tissue. The very end of the root is also removed. A small filling may be placed to seal the end of the root canal and a few stitches or sutures are placed to help the tissue heal. In the next few months, the bone will heal around the end of the root. Most patients return to their normal activities the next day. Post-surgical discomfort is generally mild.
Are there other types of endodontic surgery?
Other surgeries endodontists might perform include dividing a tooth in half, repairing an injured root, or even removing one or more roots called Root amputation. We will be happy to discuss the specific type of surgery your tooth requires.
In certain cases, a procedure called intentional replantation may be performed. In this procedure, a tooth is extracted, treated with an endodontic procedure while it is out of the mouth, and then replaced in its socket.
These procedures are designed to help you save your tooth.
Root Resorption repair
For adults, root resorption is an uncommon and troublesome dental condition in which the body's own cells eat away and dissolve tooth structure.
Root resorption in permanent teeth may begin on the inside of the tooth (internal resorption), but more often it starts from the outside and works inward (external resorption).
While this condition is uncommon, it is certainly possible to treat it successfully.
Root resorption should be treated as soon as it's detected to prevent more damage from occurring, because the destruction can be rapid.
Dental surgery is an important part of complete dental care. For more information on oral surgery procedures, anesthesia, recovery times, and other questions please call Dr. Delany & Dr. Moiseiwitsch of DC Endodontics. Call today and find out more about how oral surgery can help you. (202) 364-0234